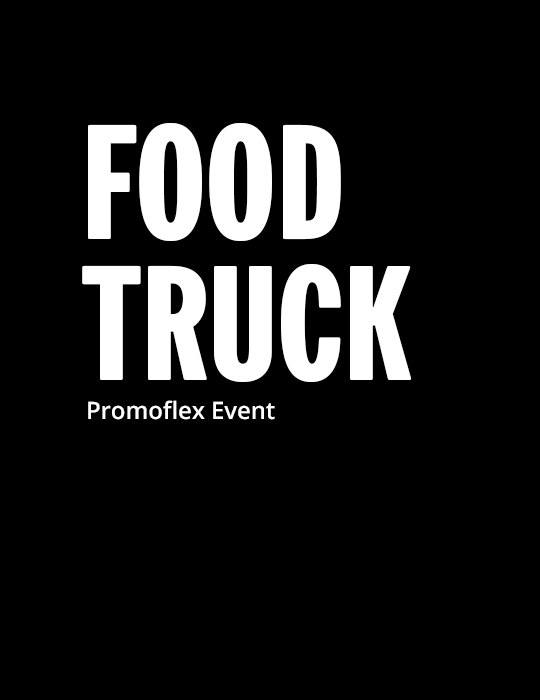 PROMOFLEX FOOD TRUCK EVENT
The Food Truck Trend
The culture of street food, or "street food", is becoming more and more popular with the arrival of summer. A concept old as humanity, the street food is to be a mixture between "fast food" and appetizers. Fast, easy to eat and affordable, it is not surprising that the popularity of Montreal food trucks has skyrocketed in recent years.
Our Special Guess
Greg's DINNER food truck it's America! America driving in Cadillac, drinking coca and savouring this carelessness and ubiquitous gaiety ... It is this legacy and authenticity that Greg's DINER team wishes to convey to you. From the perfect cheeseburger to the corn dog, to the fried chicken and classic milkshakes, not forgetting our national dish revisited by Greg's, the double cheeseburger poutine, it offers 100% homemade and fresh products of the day.
#EatToghether Day Event, with our products for branding exposure
"It's at the table where we can turn a house into a home, a stranger into a friend, and a village into a community. But more than anything, eating together simply connects us. And our world can use a little more connection right now."
The Food Truck was a perfect event to share the food we love, and more importantly, sharing great memories to help us reconnect.
We used our plastic tablecloths which are ideal for covering the top of the tables, especially during event meals or tasting session. It's double-sided and made entirely from recycled material. The Tablecloth comes in a predefined size, 25 inches high and 50 inches high, when opened.
All entire surface of the Tablecloth is customizable, with no color limitation. It's a flawless accessory for a VIP guest or adds a touch of personalization for a section at the event. The main advantage of the Tablecloth is the possibility to group with a roll banners order to optimize your investment.
We created the Tablecloth because we wanted to give you a range of products to maximize your branding exposure at events, both indoors and outdoors. Typically, the industries that buy the Tablecloth are: restaurants, the media, lottery companies and foundations.
The high quality and robust Tablecloth is ideal for both indoor and outdoor space. It is double-sided, environmentally friendly and ships at a low cost.